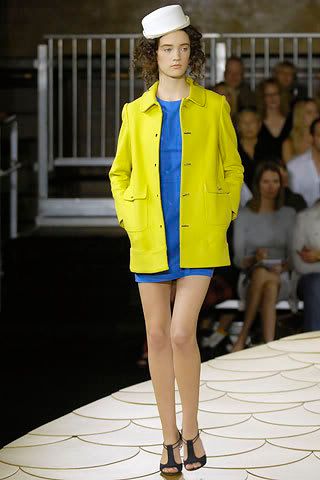 (3.1 phillip lim)
Probably one of my budding fave designers and I love that strange combo of a green/yellow. That's the kind of color that I've been obsessing over lately! I tried to get my jeans that color, but instead they came out more of a dark lime green.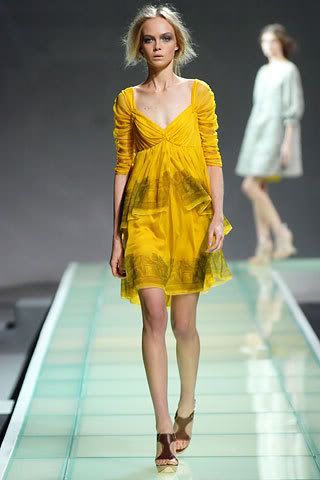 (Alberta Ferretti)
The dark yellow is sooooo goooood, plus I love the rouched sleeves and the bust of the dress. I don't really like the tiered layer, though. I also love the model's hair. I've always been a sucker for bedhead.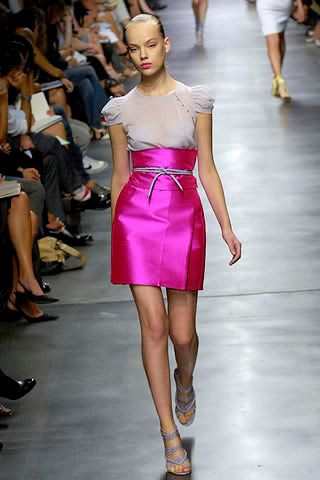 (Alessandro Dell Acqua)
Love, love, love the severity of the skirt's color and structure against the pale and girly shirt!!!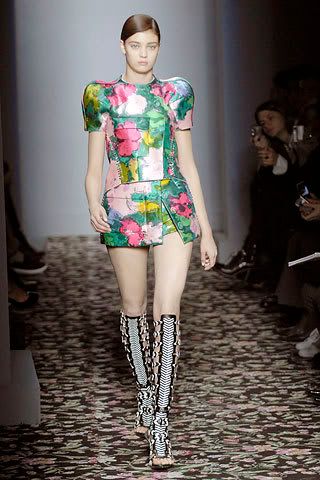 BALENCIAGA
I LOVE what Nicolas Ghesquière did this season with the prints and colors! Gah, it's like a pretty watercolor painting you can wear. And the shape of the sleeves! I'd love to wear that top with dark denim short shorts! And those fucking gladiators! Mine are already so worn out and I'd love to be able to buy these!!! The woven texture and the length and the colors! So beautiful!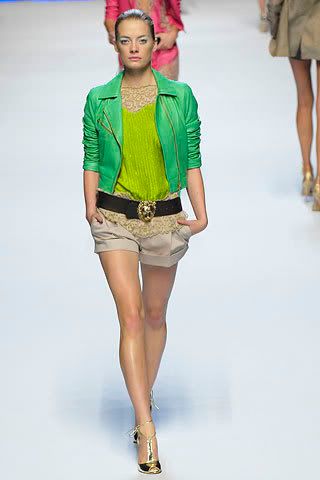 (Blumarine)
This label always is so youthful, I love it. I especially liked this season because of all the colorful and casual-looking leather jakets! I fell in love with this green one when I first set eyes on it. Actually, looking at this entire outfit, it's definitely wearable all together. Love the shorts, shirt, belt, and shoes! Not really loving the make-up though...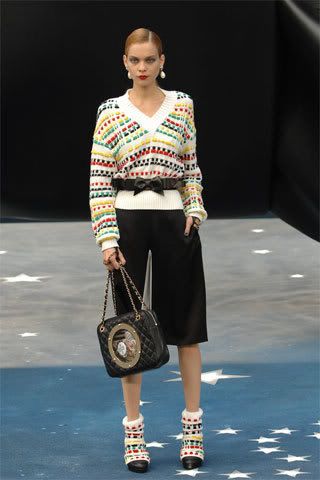 (Chanel)
This season felt a little iffy for me with Chanel. I wasn't sure if I liked the colorful sweaters and '90s-esque make-up, earrings and hair. However, after staring at this picture for a while, I decided I liked the sweater, but I would probably wear it with white jeans or shorts + tights. However, I LOVE the bag!
Chris Benz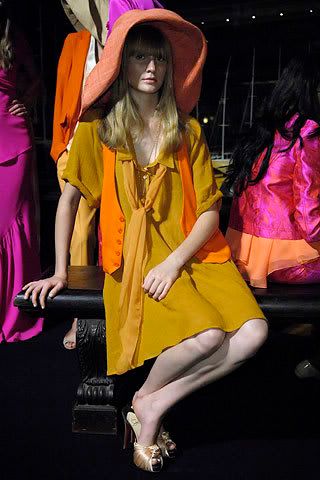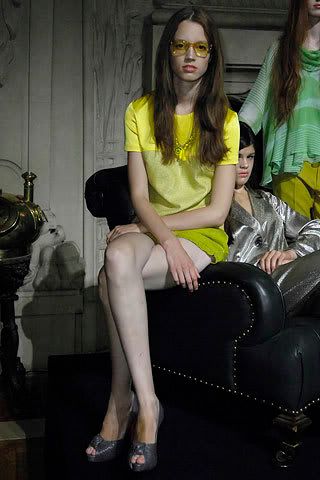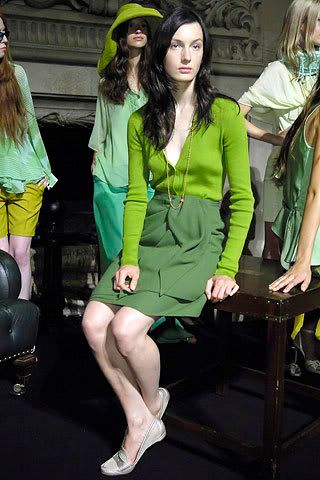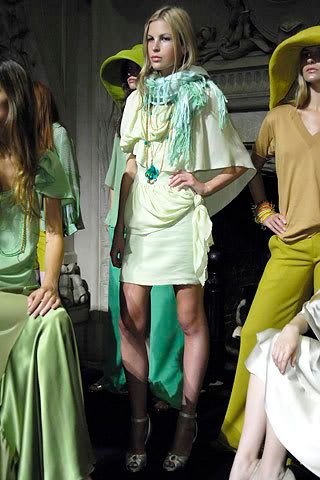 Okay, I have been reading A LOT about this guy and I when I saw his line for spring I melted. The colors! I think THE COLOR for spring will be green, all light and bright shades (especially mixed with a bit of yellow), and I think his line emphasized this prediction. I love these four looks because they are soooo romantic and beautiful. I can see myself wearing all these as they are pictured. I love the hats as well, but I don't really wear hats haha. Hats need to come back! He's definitely a designer to keep an eye on!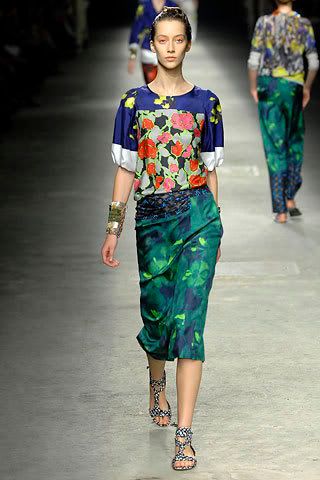 (Dries Van Noten)
I chose this look because 1) I liked the mixture of prints and colors and 2) because the model has a lovely face! Her name is Alana Zimmer and I think she has amazing bone structure :P gah, she's just so pretty!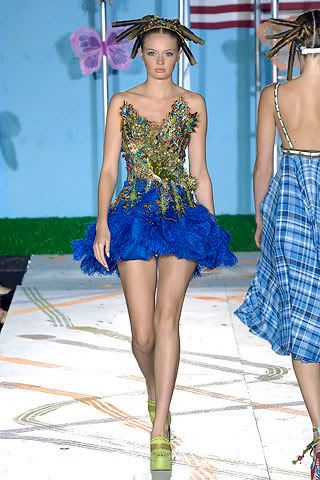 HEATHERETTE
Of course, I couldn't forget the boys whom I hold so dearly close to my heart: Richie Rich and Traver Rains. Gah, I love all of their work because it's sooooo outrageous and absurd! I don't know what celebrities (other than Paris Hilton-BLEHHHH-) who'd wear their clothes. One of my goals in life is to meet the duo and become their muse :] hahahah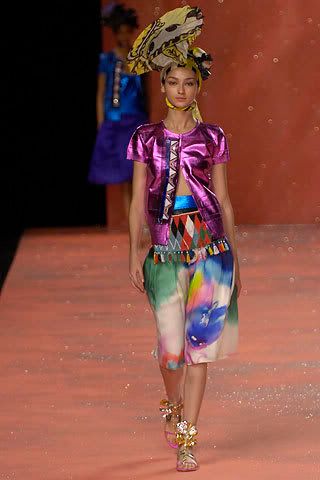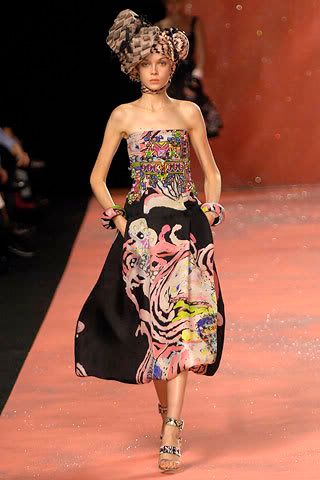 (Christian Lacroix)
I am never disappointed by this man. The patterns, the colors, the SHOES. His collection seems so elegant, but retains a youthful quality. The dress is probably my favorite because of the pattern on the bust then then the large print on the skirt. Such lovely balance!
So there are some of my spring faves!
I ordered a backpack that looks like this: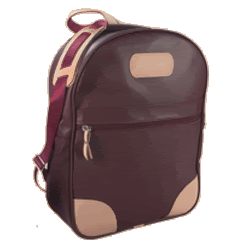 Except it'll be black with a gold name tag that reads "Shiny Kid" Hopefully I'll get it by the end of the week! It's such a sorority girl backpack and that's why I love it :P Here's the link if yr interested in the backpack
Peace!